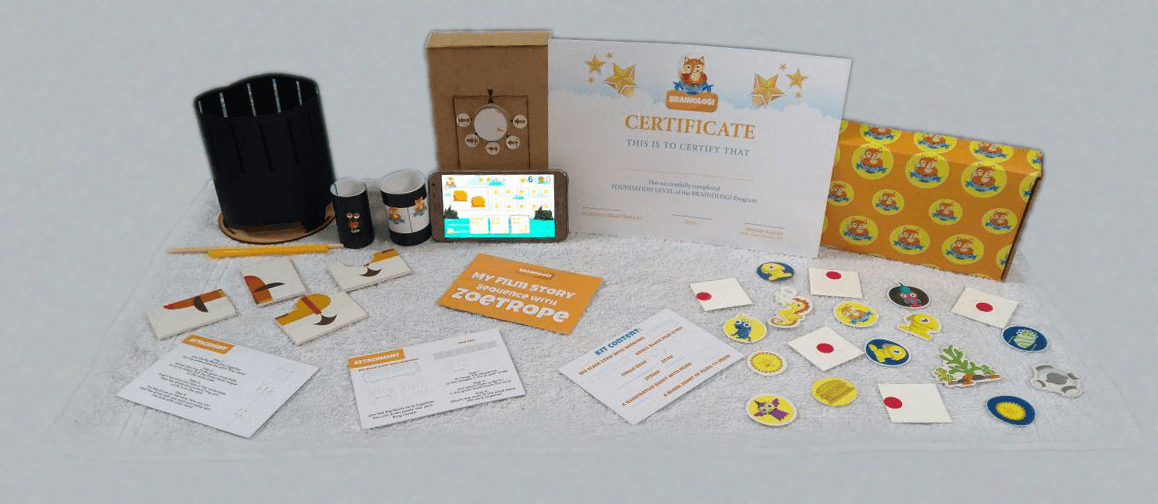 Foundation Programme for 5-6 year olds
Foundation Programme for 7-8 year olds
Logic & Reasoning Activity Book 5-6 year olds
Logic & Reasoning Activity Book 7-8 year olds
Logic & Reasoning Activity Book 9-10 year olds
Brainologi is step by step, self-learning programme for 5-10-year olds. A program which helps your child become exceptional thinkers and learner.
This course develops Logic, Reasoning, Analysis and other core skills. Core skills develop a child's potential for academic and professional success in any field. And makes them ready for opportunities of the future.
It is a unique digital cum hands on learning program for your child. It has various modules which are spaced through weekly intervals. After completion of each module, the child receives a physical kit where he/she can implement the learnings gained earlier through the digital medium. In this way, Brainologi provides a complete learning cycle by providing real-life application of the concept learned. Each lesson brings the child to a colourful island where captain McFoxy – the Fox gives instructions, asks questions, and helps to find correct answers. Every lesson, moves the child to a higher level of difficulty. You also receive advice on your child's progress. A Certificate of Merit is awarded to the child on scoring 70% on completion. 

Get Started Today!
Discover how the Brainologi programme will transform your child. Ask for a FREE demo.